1983 Tempesta

58cm seat tube ctc, 57cm top tube ctc, 39" wheelbase. Purchased from Oliver Ramm

Components: Gipiemme Cronosprint crankarms; Gian Robert 53t drilled chainring; Gipiemme 41t chainring; titanium chainring & crankarm bolts; OMAS "Big Sliding" bottom bracket [Art. 132, Movimento Centrale, Strada, Acciaio, 70-SS-120, 36 x 24 F.]; Galli Sport rear derailleur; Bullseye derailleur pulleys; Suntour Cyclone Mark II FD-2300 Endless Type front derailleur; Gipiemme retrofriction shifters; Regina G.S. Corse six speed freewheel [13-14-16-18-22-26; 41-107 gear inches]; Everest Aeterna chain; Ofmega Mistral pedals; Gipiemme toe clips; Silva toestraps; Reg toestrap buttons; Gipiemme 27.2 seatpost; Selle San Marco RS Due "Salsa Caliente" saddle; titanium seatpost bolt; Gipiemme Cronosprint brake calipers; Modolo brake levers; Campagnolo Record 36o hubs with Mavic Open Pro rims; Gipiemme Cronosprint/E alloy headset; Tempesta pantographed Cinelli stem; Cinelli Campione del Mondo handlebars; Velox Ruban à Damiers Ref. 82 tape [tape with checkerboard]; Milremo handlebar plugs; Reg alloy water bottle cage

Weight: 22.6 pounds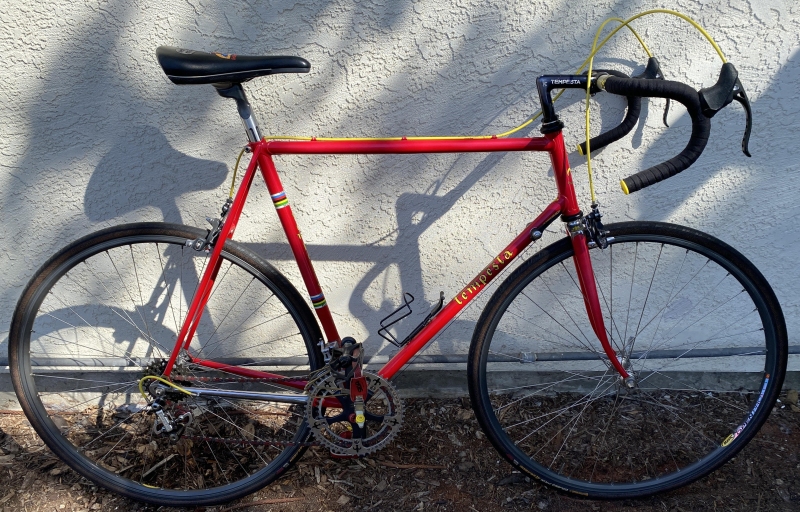 link to larger photo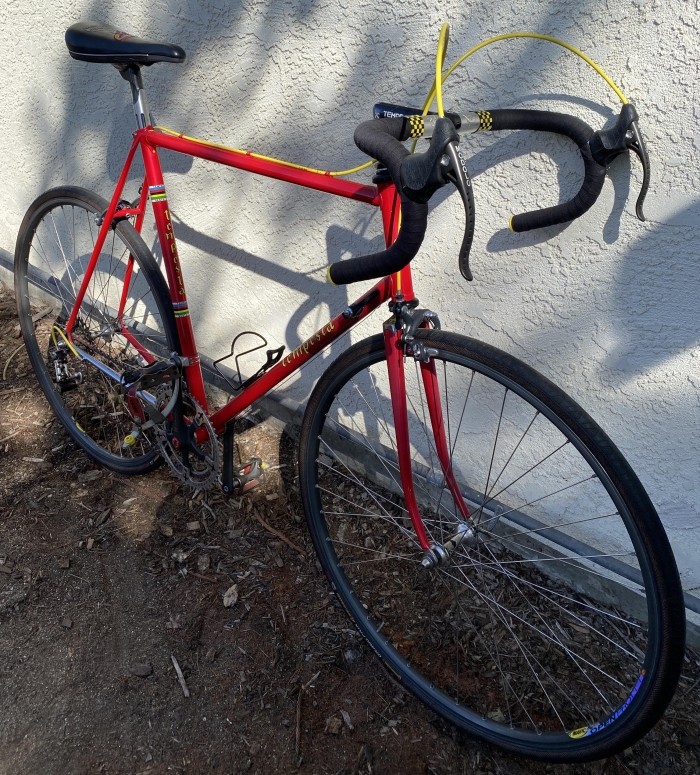 link to larger photo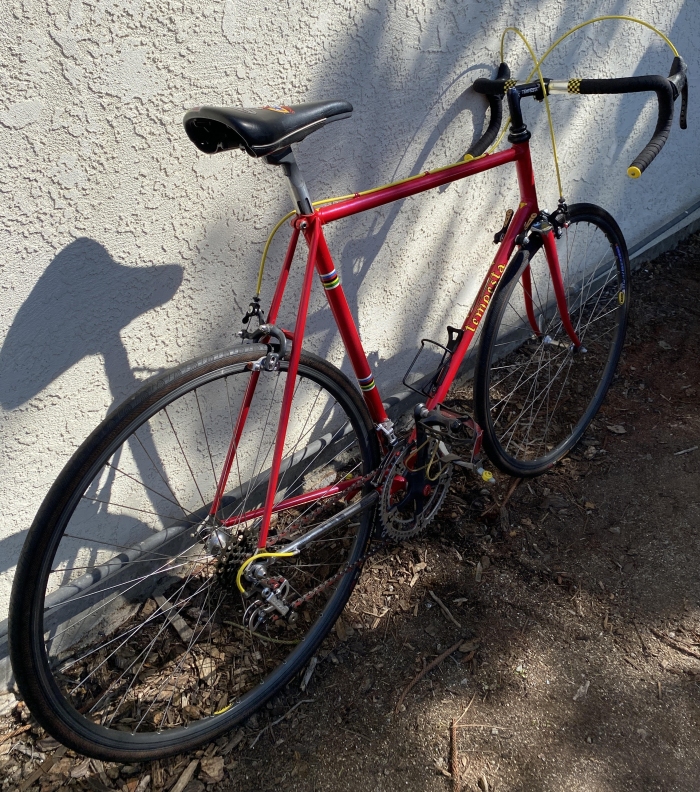 link to larger photo

Marque: Cicli Tempesta
Sesto San Giovanni, Milano, Italy

From the site linked above: Michele 'Lino' Tempesta [1932- ] began building bicycles in 1958 in Sesto San Giovanni, at Via Risorgimento 384, and also repaired bicycles, motorcycles and mopeds. In 1978, Lino and his son Silvio [born 1958] created a rear wheelbase shortening system, crimping the rear of the seat tube for tire clearance, and creating a bandless front derailleur (since the seat tube was no longer round), which was screwed onto the seat tube using threaded inserts they patented. This seat tube front derailleur mount was applied to the frame named "Mod. 80." By 1983, Lino had shifted to being a racing bike mechanic. Silvio Tempesta was an active racer, continues to be involved as a coach, and sells bicycles. His website is very interesting... check out the photo gallery.

Tempesta on Facebook

Tempesta bikes etc.: culled from eBay or the web

The Guerciotti section of The Custom Bicycle , Michael J. Kolin and Denise M. de la Rosa. Emmaus, Pennsylvania : Rodale Press, 1979. says that...
Lino Tempesta is the uncle of Paolo and Italo Guerciotti. In 1965 the Guerciottis started building their frames as a full-time business. They hired their uncle Lino Tempesta, an experienced builder, to provide additional guidance. Lino had been building frames for Bianchi in Bergamo for 15 years. He knew how to "use a torch" and he was a superb artisan. ... Paolo, Italo, and Uncle Lino did all the frame building ... By 1972 the demand for Guerciotti bicycles had grown ... Paolo and Italo ... were unable to build the frames themselves. However, Guerciotti frames are still being built by Uncle Lino. Lino supervises the three frame builders who are now working for the Guerciotti firm...